Cambodia
After entering Cambodia some changes in the housing on the countryside and the way of live were pretty obvious. Also the roads were not as good as in Thailand and it was quite some differnce to drive on the other side of the road again. Especially the last 80 km into Phnom Penh along the Highway 6 were horrific The road has hardly any tar on the surface but lots of red soil and plenty of dust which was set awhirl by the heavy traffic. At dusk we finally reached Phnom Penh after a 9 h ride.
On the 22.11.2012 we went to the Thai Embassy in Phnom Penh to apply for a Visa for Thailand, as we would only get a 15 day visa when we get back into Thailand using a bordercrossing of a neighbouring country. Normally it takes 3 working-days, however we were told to come back tomorrow to collect our visas. Let's wait and see what happens tomorrow....
We hardly could believe it, but when we entered the visa section of the Thai Embassy on Friday at 15:50 h, we really got our passports with the two 60-day-visas. Other tourists, that applied for the visa at the same day as we, were told to come back on the 30.11.2012.
Cool, what kind of an effect a little bit of politeness and proper clothing can create...
On the 24.11.2012 we left Phnom Penh on the Route 6 to go back to Siam Riep. The navigating system calculated 4,5 h, however it took us 8 h for that stretch. A good reason, to relax for one day in Siam Riep, before we visit the temple of Angkor Wat tomorrow.
On the ticket booth of Angkor Wat we met two bikers from Poland, who as we do make a journey around the world. After a short while we decided to share a Motor-Rickshaw to explore some parts of the Temple together. Unfortunatly they did not allow foreign motorbikes to enter the templegrounds, however all the local bikes could go in....
Here just a few photographs that were taken during the day in Angkor Wat: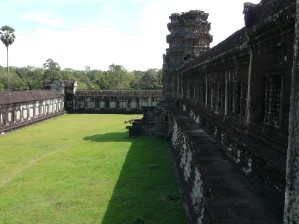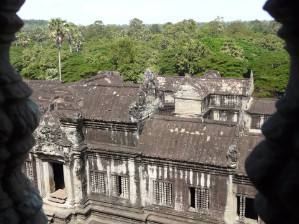 Main Temple of Angkor Wat