Here you will find the latest information about our trip, for older chapters you have to go to the history page.
As I am finally staying in a hotel with a good intenet connection and also have the time and mood here is, after a long time, an update.
On the 10.03.2013 our way led us - again - to Bangkok. There we stayed 7 days before we headed on to Chumphon on the 17.03.2013. As we left Bangkok on a Sunday the traffic was bearable, but not the temperature - heaty 37°C as usual. In Chumphon we just spent one night before going to Donsak on the following day. We had to go to Koh Samui one more time, as we had bought a picture there which was supposed to be sent to Germany. As we could not reach anybody of the shop by phone we decided to spend some more time in Samui.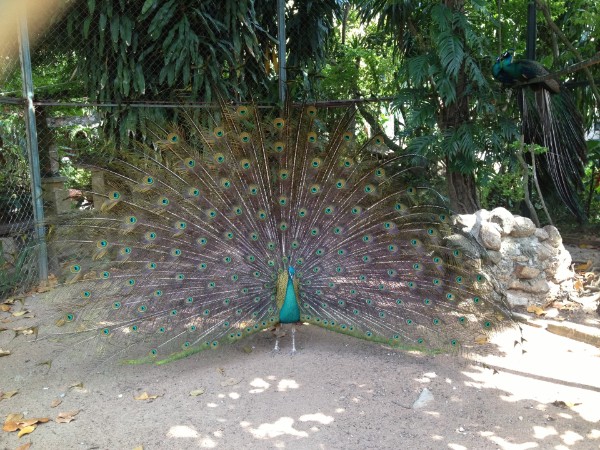 Peacock at our hotel on Samui
After we had finally clearified the matters about our picture we went back to the mainland on the 25.02.2013 and then on further south to Had Yai.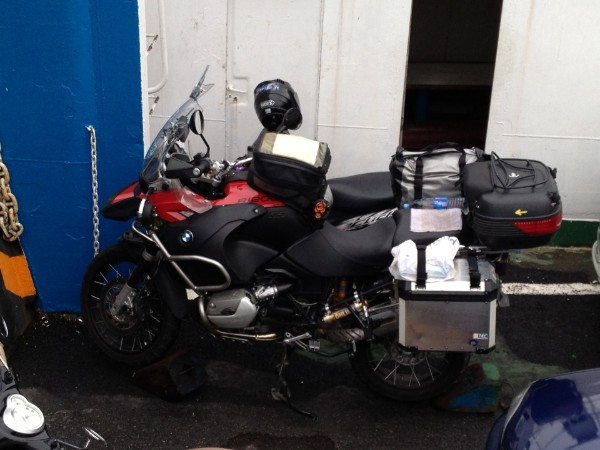 Bike on the ferry
We had reached our hotel in time, before the bad weather could catch up with us ;-)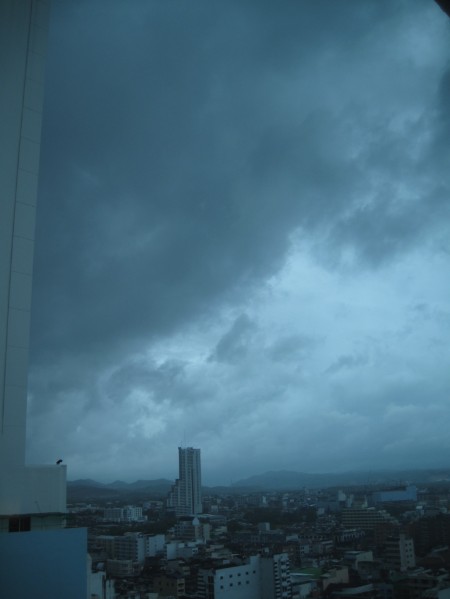 After 3 days in Had Yai we went on to Malaysia, to Bukit Mertajam where we went to Sheila's parents.
MALAYSIA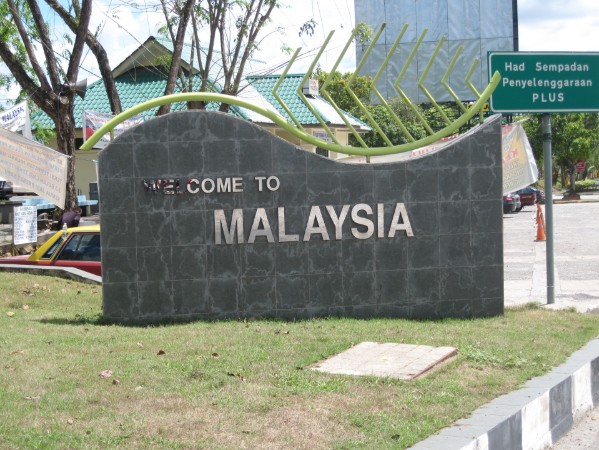 There we spent six days. On the 06.03.2013 we finally left for Kuala Lumpur. There were a few culinary highlights to discover, among them the chicken fish on the photo below.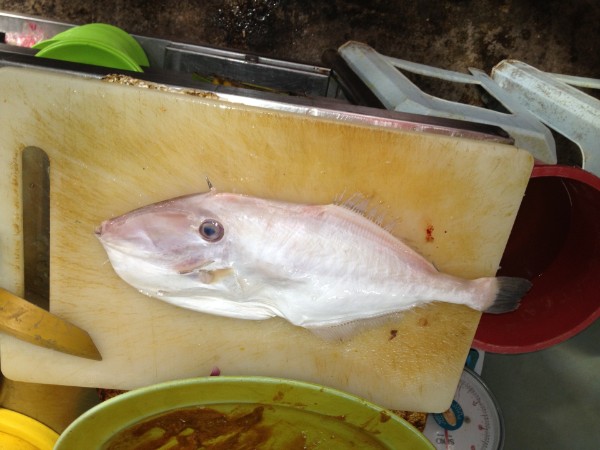 TheTwin-Towers of the Kuala Lumpur City Centres (KLCC) from the Skybar in the 33rd floor of the Traders Hotel in K.L.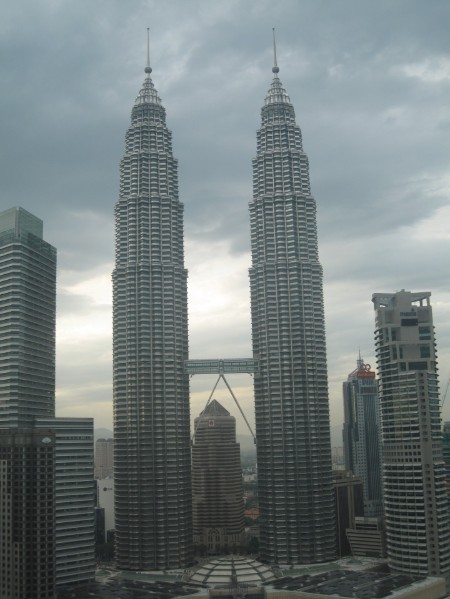 once in the late afternoon...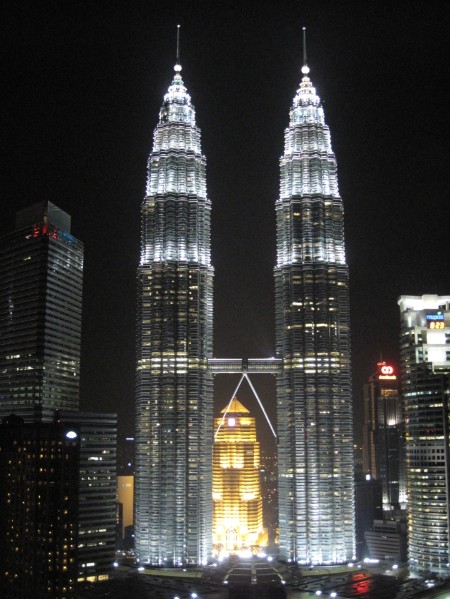 ... and then a few cocktails later
On the 10.03.2013 we met up with another 14 Malaysian motorbikers and did a day-tour in the surrounding area of Kuala Lumpur. We also met up with our friends Alex and Allyson, which we met in the north of Thailand about 2 month ago.
On the 12.03.2013 we went on to Johor Bahru, the most southern town of Malaysia at the border to Singapore.
Here we spent 3 nights. Not because there is so much to see, but because I had to go to Singapore and do all the necessary paperwork for a temporary import of a foreign registered motorbike into Singapore. It took quite some time until I got my insurance and my International Circulation Permit from the Automobile Association of Singapore. Last but not least they also endorsed my Carnet de Passage. As this took quite some time the Land Transportation Authority, to which I had to go next (to get the Autopass-Card according to AAS) was already closed. I had no other choice then renting a room for a night and do the rest the next day. After arriving at the LTA there was nothing else to do than taking a number, sit down and wait. Finally I was called to the counter, just to learn that I do not get the Autopass-Card here, as I do bring in my bike via land and that I will get the card at the checkpoint where I enter Singapore. So I went back to Johor without Autopass-Card.
SINGAPORE
On the 15.03.2013 we left the hotel about 12:00 h as the ride to our hotel in Singapore would only last for about 30 min. The departure out of Malaysia (incl. of stamping the Carnet) was done in less than 20 min. And then the maddening journey into Singapore began.
At the counter of the Singapore immigration officer we had to fill in our immigration cards and had to get our passports stamped. Time exposure: about 15 min.
I parked the bike and got my Auotpass-Card. Time exposure about 1 h.
Then the bike had to be shown to the customs officer. Time exposure 30 min.
After that we went through the "Red Channel" as there was no queue of other cars. We left customs behind and went straight to the LTA. There, according to a officer at the border, we can rent our invehicle unit for the electronic road pricing. It is necessary to have if one intends to enter a gantry of the ERP-System, as there is a fine of 70,- SIN$ imposed if doing without. Unfortunately our hotel was in one of these zones.
There we spent about 2,5 waiting, until we finally had our system in hand and could leave towards our hotel. At 18:00 h we finally entered our hotel room.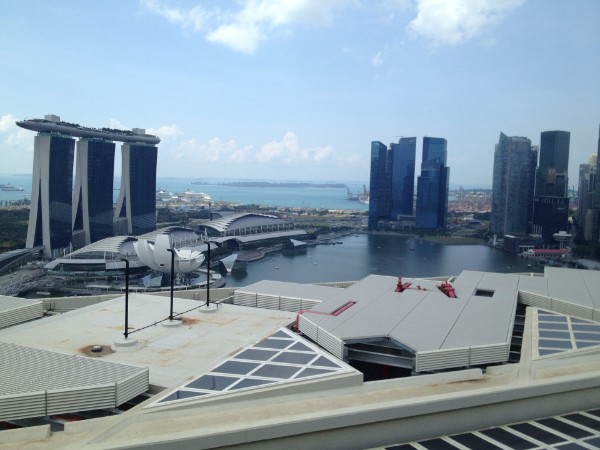 View from the Club Lounge of our hotel onto Marina Bay
On the 11. amd 12.03.2013 we met up with friends - once for a BBQ and on Sunday for the brunch in the Mandarin Oriental Hotel. Three hour of feasting at the best what land and sea has to offer. Simply fantastic.